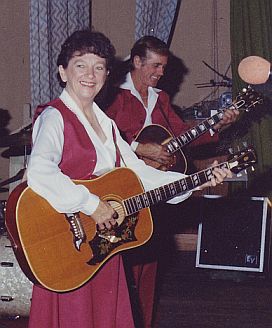 Rick And Thel Carey Footage
Occasionally out of the blue, some old footage of Rick and Thel Carey comes to the surface.
Here's a short piece of footage I just came across on YouTube.  I am not even sure where it was shot.  I notice that nearer the end, Mum has a little fumble over the words!  She would have hated that… 🙂
One thing about Mum, she was always nervous…. Never got over her nerves, in over 30 years!  I guess she learned to live with them.
'Hymn of the River', often called 'Roll Along Mighty River', was written by prolific songwriter, Ken Robertson.  Mum and Dad recorded a lot of his material over the years, which turned out to be some of their most popular songs.
Songs like For 'Jenny A Rose', 'A Little Boy's Christmas Prayer', 'Border Town', 'Mary Jane Malone', 'The Old Country Church', 'Hymn of the River' and 'Battered Stockman's Hat', just to name a few!
I will be posting News, and Upcoming Appearances here, as well as the occasional anecdotal story should people care to share.  I will have to see if I can kick it off and get the ball rolling perhaps!
Anyway, thanks for dropping by.
Lynne
Addit to above: I now know where the footage comes from, it is from a Television Show that Terry Gordon used to run from Tamworth, and Mum and Dad appeared on that show.