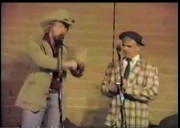 Cousin Ratsack – Cigarettes or the Money
The Rick & Thel Show would not have been the same without Cousin Ratsack…
Cigarettes or the Money – was a popular skit and is a clip from the 3 DVD's showing footage from the Rick and Thel Show.
While most people were aware that Rick Carey was also Cousin Ratsack, there were some who never realised that they were one and the same person.  While Dad (Rick) was able to be coaxed back to singing after Mum (Thel) passed away, sadly, he was never able to be coaxed to don the baggy suit again!
The other thing about this skit which is a bit of a 'sign of the times' is that it talks about 'cigarettes'. At the time most people didn't fully appreciate the dangers of smoking, and smoking was a contributing factor to my Mum getting mouth cancer…
Dad had already given up some time before this skit was recorded, but Mum continued to smoke up until her first diagnosis, and then she quit.
Against the odds… she went on for another 20 years.
I don't in any way condone or encourage smoking…. The skit, however, is not funny because of the cigarettes so I don't find it a problem, but just in case anyone has reason to wonder…
Myself, I have never taken up smoking even though as a child both my parents did smoke… I started to become health conscious from a very young age… possibly because of my sister who was unwell for most of her short life…
Anyway… that is another story 🙂
Hope you enjoy the skit… Even if you have already seen it on YouTube.
Lynne 🙂