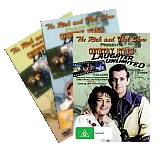 Products Page – DVD's And CD
Please select products from the list below.  If you would like more information on pricing and shipping costs (if outside Australia) please contact me via the contact page, with your inquiry.  Prices are listed individually below and you will notice that there are reduced prices for multiple packages. (All prices are in AUD – and don't include postage or shipping – Postage is listed below for Australia. For International Orders please contact me re: shipping charges)
Individual Product Prices
Individual DVD & CD Products
Details
Individual Prices


Released 2007





Beyond The Dream (Audio CD)

Rick Carey – featuring special guests, Troy Cassar-Daley, Bill Chambers, Anne Kirkpatrick, Rod & Jeff McCormack, Tracy Coster, Stuie French & Lynne Carey with her Dad on some new and old songs.

Songs: Beyond The Dream, Somebody's Back In Town, The Way It Was In '51, Listen To The Children, I'm Blamin' You, Hello Trouble, If You Fall Out Of Love With Me, Rusty It's Goodbye, If Only This Old World Could Be At Peace, Where The River Disappears Around The Bend, It;s You WIth A Broken Heart, I Hope You're Satisfied, Your Kinda Lovin's Not For Me, When Jimmie Rodgers Said Goodbye

$25.00plus

P & P

Volume 1


Volume 1 (DVD – Running Time approx. 147 mins.)

This DVD shows footage taken of a show in Saddleworth, South Australia in 1984.

The show starred Mal Russell, Brian Mitcheson, Doug Brown, George Graham, Marilyn Russell, Cousin Ratsack and Rick and Thel Carey.


$37.00

plus

P & P

Volume 2


Volume 2 (DVD – Running Time approx. 119 mins.)

This DVD shows footage taken at a show held during the Australian Country Music Festival in Tamworth, New South Wales in January of 1984.

The show featured Mal Russell, Brian Mitcheson, Doug Brown, George Graham, Cousin Ratsack and Rick and Thel Carey. (Same Artists as Volume 1 but a different show)


$37.00

plus

P & P

Volume 3



Volume 3 (DVD – Running Time approx. 104 mins.)

This DVD shows some footage of home movies narrated by Rick, and was filmed between 1959 to 1965 (28 mins.), Some highlights of the show filmed in Tumby Bay, South Australia. (70 mins.), and a short Television Interview of Rick & Thel recorded in Bluff, Queensland in 1976 (6 mins.).


The home movies include brief shots of Slim Dusty, Joy McKean, Chad Morgan, Brian Young, Paul Lester, Pam & Ray Kernaghan and others.

The Show featured Merve Maltman, John Leckner, Wayne Symonds, Kevin Gunn, Cousin Ratsack, Rick  And Thel Carey.


$37.00

plus

P & P
Package Product Prices
Package Products

Details
Package
Prices

DVD Package



"The Rick And Thel Show Presents,
Country Stars Laughter Unlimited"
Volumes 1, 2 & 3

$87.00

plus

P & P

DVD Plus
CD Package

"The Rick And Thel Show Presents,
Country Stars Laughter Unlimited"
Volumes 1, 2 & 3Plus"Beyond The Dream" Rick Carey with
Lynne Carey and Special Guests

$102.00

plus

P & P
How To Order
Currently to make an order you will need to do it by post.  If you have special requirements or have any queries then please contact me via the Contact page.  Otherwise orders within Australia will usually require payment via cheque or money order made out to R T Records, and mailed to:
R T Records
PO Box 4334
Forest Lake Qld 4078
AUSTRALIA
Packing & Postage
Within Australia, add on $3.50 per item to a maximum of $10.00.  For the package orders, add $10.00 to the package prices.
Overseas Orders
If you wish to order from overseas, then please let me know via the Contact page, and I can organize a Pay Pal payment after we give you a quote for shipping.   All orders will be shipped within 24 to 48 hours upon receipt of payment.
Depending on the demand, at some point in the future I plan to arrange an online checkout using PayPal, however, in the meantime payments will need to be paid directly to a PayPal account.
Thank you for visiting and we appreciate your interest and support.
Lynne Carey
* All prices, including postage and handling are subject to change at any time, and without notice.