Welcome to the Official Rick and Thel Carey Website
Rick and Thel Carey, often referred to as Mr and Mrs Country Music…
Are numbered among those who Pioneered Country Music in Australia.  Their husband and wife themed duets carved out a niche that remains unique to this day.   They helped to establish a strong foundation for the Australian Country Music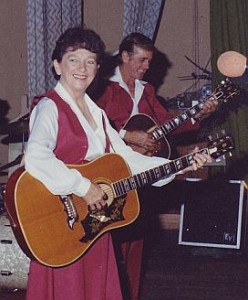 Scene, by taking their traveling Variety Show to many remote area's and rural centres throughout the Australian Bush.  This nomadic way of life typically spanned over 10 months of the year for over 30 years.
They began touring in 1959, and over the course of their career helped to establish a number of well know Australian Country Music Artists, whose careers began by working on their show.
Other artists, spread over two generations, were inspired by attending their shows, and went on to become well known musicians, songwriters and singers.
It would be difficult to determine, the full extent to which they impacted on pioneering Country Music in this Country.   It is known that they influenced, either directly or indirectly, such artists as Slim Newton, Chad Morgan, Ray Kernaghan, Lee and Tanya Kernaghan, Bill Chambers and many more.
Another popular artist who went on to continuing touring Australian outback, was Brian Young who started working on their traveling show, after leaving behind his career as a Rodeo Rider.  It is well known that Brian went on to provide opportunity for Troy Cassar-Daley to kick off his hugely successful career.  Of course these are just to name a few, and some of whom have gone on to become household names.
It is hoped that by visiting this site we can provide you with some of the history, spanning their career, and we can begin to record these things for future generations.
Please Share…
If you have any personal stories you would like to share; perhaps attending the Rick and Thel Shows, or anything related, then please head to our 'Leave Testimonial' page and submit your story.  Any anecdotal stories would be very welcome. I have to 'approve' them, but once I do, then they will be published on a special page. Plus, I will of course credit to each contributor.
If you are interested in participating, please click this link.
I hope you enjoy the website, and also, I hope over time there will gradually develop a whole new fan base that spans the generations, to create a resurgence and appreciation for some genuine Australian Country Music Pioneers as they created history all those years ago.