Rick and Thel Carey Big Bundle
Flash Christmas Sale
Monday 4th (evening) – Friday 8th (

afternoon) 

Dec. 2017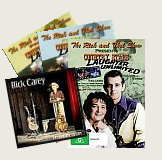 For 4 Days Only You Can Get Our
3 DVD and CD Bundle at a Steep Discount!
The 3 DVD's are original footage from the Rick and Thel Shows, and on Volume 3 there are also some home movies added and an interview which was done out in Blackall Queensland.
The CD is the last recording Dad made. It was produced by Bill Chambers and released in 2008. It has several special guests along with me singing with Dad on some older Rick and Thel songs.
Sharing Memories …
"I am purchasing these for my mum for Christmas as when we were younger the Rick and Thel show was the highlight of the year for my parents.

I can vaguely remember the shows as I was quite young but my dad absolutely loved them. (like most people, cousin Ratsack was his favourite)

Your parents bought so much joy to so many people across Australia that all we can really say is "Thank you"."
Mick, Western Australia
If you want to take advantage of this Flash Sale you can Purchase through The PayPal link below, and I will get them in the mail, hopefully, to get them to you before Christmas.
If you don't have a PayPal account you can still purchase using a Credit Card and if you can't do either of those then you can use the contact page and let me know your details, and I will discuss other payment options with you.
Price normally $102 Plus $10 P&P (total $112) for
4 Days Only (Tue 5th-Fri 8th Dec. 2017)
$77 with FREE Postage.
P.S. Don't forget to include your name and address and if you don't find a space in the PayPal order form, then just contact me with the PayPal Transaction ID and I will confirm your order and post off your parcel. Click here for the Contact Page if you need to contact me.
CLICK HERE TO JOIN OUR EMAIL LIST
(it will open up in a new page so you don't lose this page)
I will not email you often, but I will occasionally send out a newsletter, as well as any special offers I put out or when I release any new products. I have a few things in the pipeline! 🙂